TIMBERLAND PRO CASE STUDY
a small team of multi-talented creators
Timberland Pro needed to reinvigorate their lifestyle social content in the winter of 2018 and we were fortunate to be the team they selected to accomplish this production. Nick Girard & Kris Roller are the foundation of the nimble team that created this content. The duo implemented a production model where high-end meets efficiency. The model was born out of a desire to move away from the negatives of a traditional large production: slow moving and extremely expensive, while retaining the positives: thoughtful high-end content. Additionally our model recognizes the demands of social media being timely and consistent. Raised in the on-demand digital age they are rethinking the way high-end content is created. During our first year working with Timberland Pro we produced eight different shoots, delivering nine videos, and 150 photographs. We have an additional seven shoots slated for 2019 with Timberland Pro.
A COLLECTION OF TIMBERLAND PRO PHOTOS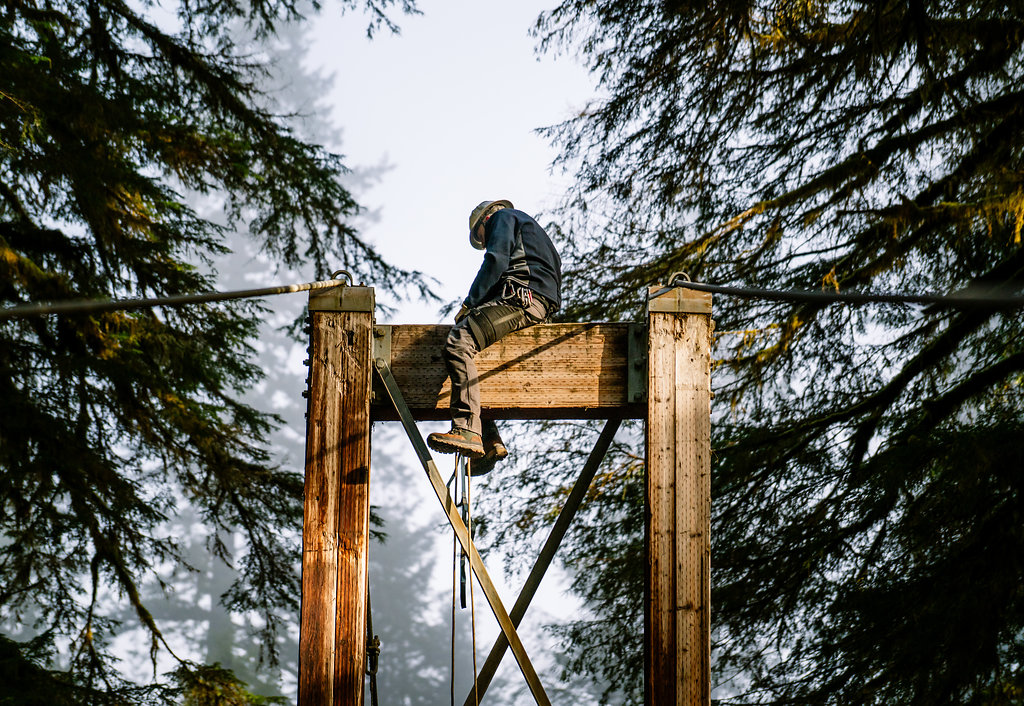 The need for Lifestyle, product and social content
Timberland Pro had a need for lifestyle content (on-body) that brought to life their vision of inspiring people to get into the trades and celebrating the worker and the job they do. Timberland Pro wanted to focused on real workers, in real environments, wearing Timberland Pro products. Timberland Pro needed both photography and video assets. For the photography they requested a mix of "tight on product" content as well as "wider content" to show epic environments that these skilled professionals work in daily. They also had a need for a series of portraits to round out the content. In an effort to create consistency throughout their consumer journey they requested video assets to compliment the photography. Criteria was provided from Timberland Pro to our team that outlined specific needs for locations and talent, along with product information, deliverable details and dates. Timberland Pro provided specifics for content looks to meet there brand guidelines; for example they had a need for HDR style photo editing, which we applied during retouching of the final imagery.
A COLLECTION OF 2018 TIMBERLAND PRO video content
Services provided - start to finish
Pre-Production
Creative ideation and direction

Remote location suggestions, scouting, securing of locations and logistics

Remote talent sourcing, focusing on recruiting individuals who work in the field instead of models to gain a deeper and authentic connection with the content to the end user (per the client's request)

Shot sheets

Crew sourcing for production

Location and model releases for production

Travel and logistics for crew



Production
Kris and Nick play multiple roles onset to keep the entire crew footprint to a minimum, directing, producing and shooting as a duo

Managed a small, highly skilled, skeleton crew including a photo assistant and stylist and digital tech (crewed each shoot as needed)

Released talent and locations for commercial use

Managed time on location and relationship with location lesion

Creating photography and video content in tandem during the production day(s)
Post Production
Editing for photography and video assets is guided by creative direction outlined during pre-production

Provided preliminary photos for review and client selection

Multiple rounds of revisions included for photography retouching

Multiple rounds of revisions included for video content edits

Music licensing included with video content
Key Points
Our core competencies have allowed Timberland Pro to think "digital and social first" when creating content

Timberland Pro has a brand mission to tell the stories of real workers in the trades, bringing their stories to life in an effort to inspire others and celebrate the worker. Our partnership has allowed them to tell these stories in an aspirational and authentic manner

The content is helping Timberland Pro engage with their audience on social in a brand new way that their previous content was never able to do

The Timberland Pro audience appreciates the authenticity that this new content brings

Small, highly skilled, team allows for efficiency and quality

Photography and Videography services paired provide consistency in look for client

Turn key budget covers everything in production start-to-finish

Clear communication with client and clear mile stones

Flexible for different project/client needs and capable of scaling production and budgets accordingly